Men's Basketball Game Parking
---
During home men's basketball games (see schedule), a specific game permit issued by the Williams Fund is required to park in lots 31, 54, 70, 71, 72, 90, 93, 125, 127 and the Allen Fieldhouse Garage.
Public parking is available for $35 in the Central District Garage on a first come first serve basis. Access the garage from 19th Street and Ousdahl Rd. A limited number of spaces are also available in lot 90, from the entrance at Naismith and Schwegler Drive.
All vehicles that do not have a game permit must be removed from these lots and the garages by the time/date listed on temporary signs posted at the entrance of each designated parking lot. Failure to do so will result in a minimum $100 fine and the possible towing of your vehicle.
Accessible Game Parking
Accessible spaces are available in parking lots 54 (6 spaces), 71 (25 spaces), 72 (13 spaces), the Allen Fieldhouse Garage (8 spaces), and in Lot 90 (east of Allen Fieldhouse). There is a $35 parking fee, and these spaces are sold on a first-come, first-served basis.
A paratransit bus will be positioned on Schwegler Drive to help get fans with limited mobility across the street to Allen Fieldhouse.  Display your state-issued accessible license plate or hangtag and have your personal identification card with you.  Limited mobility fans will be allowed to unload and load near the south entrance to Allen Fieldhouse.
Parking for Other Purposes During Games
Those who are on campus for academic purposes can park in most parking lots north of Jayhawk Boulevard, or in lot 61 (Sunnyside & Illinois) after 5 p.m. with a valid parking permit. Faculty and staff with valid permits may also park in lots 6, 7, 17, 34, 35, 37, 41 and 129.
For those on campus all day, we recommend choosing a parking lot on the north side of campus in order to avoid the need to move your car before 5:30 p.m. 
Visitors to the university who are not attending the game may park after 5 p.m. in most of the lots north of Jayhawk Boulevard. Please pay close attention to the lot restrictions on the signs.
Bus Routes Game
Route 42 (Campus Blue Circulator) operates until 5:30 p.m. Monday through Friday, then changes to Route 44 (Evening Circulator) which operates 5:30-10:30 p.m. Monday through Friday. 
Game Day Parking Map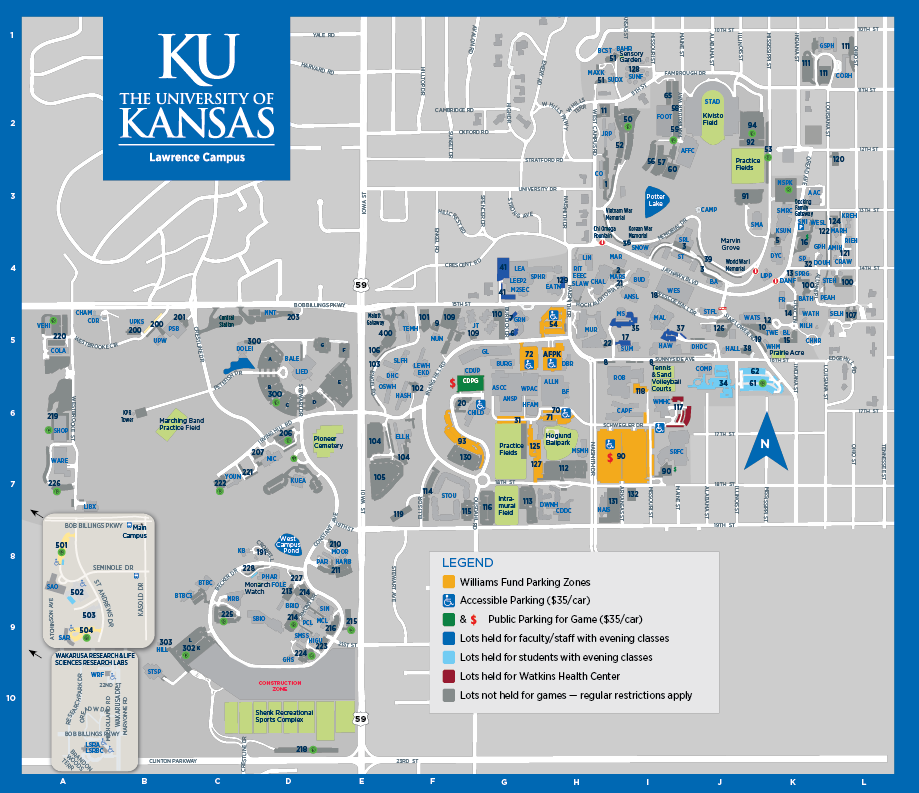 Game Day Shuttles from Park & Ride have been discontinued for the 2023-24 basketball season.